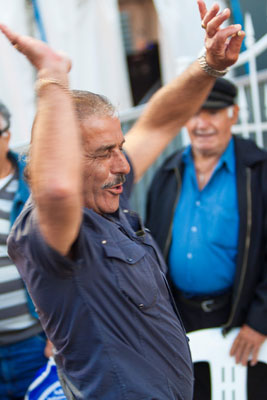 About:
Friday November 6 – Sunday November 8, 2015
Friday & Saturday:  11 a.m. – Midnight
Sunday:  11 a.m. – 6 p.m.
St. John the Baptist Greek Orthodox Church
2418 W. Swann Ave. | Tampa FL  33609
(Directly between So. Howard Ave.  and So. Armenia Ave.)   See map
• Entrance fee: $2.00
• Free admission (11 a.m. – 4 p.m. Friday only)
• Free admission for children under 12 and for the military & family (with id).
• Entrance locations:
–  Moody Avenue (rear parking lot located behind church and school.)
– On corner of Swann Avenue and Moody Avenue (in front of church)
• Disabled parking is located at Moody Avenue entrance.
What is The Tampa Greek Festival?
The Tampa Greek Festival is one of Hillsborough County's oldest cultural celebrations. Established more than 30 years ago, the festival strives to bring its heritage, its Orthodoxy, and of course, its wonderful food to individuals from throughout Tampa Bay. It is one of St. John the Baptist Greek Orthodox Church's biggest public fundraisers. Throughout the weekend, guests can enjoy strolling through the Grand Hall, indulging in inventive spirits at the Opa! Party Tent, and watching professional sports games in The Grecian Gardens, an outdoor oasis on the opposite side of the cathedral from the Kid's Zone. Whether it's freshly-prepared Mediterranean style food and pastries, an evening of live music and beautiful choreographed dance, or a unique shopping experience, The Tampa Greek Festival gives everyone the chance to enjoy life like a Greek.
The Orthodox Christian Church
For the first thousand years of Christianity, there was one Church. In 1054, the church broke into two, with the churches of Rome and Constantinople excommunicating one another. After 1054, the church in Eastern Europe became known as the Orthodox Christian Church, and the church in Western Europe became known as the Roman Catholic Church. Today, most of the Christians in Eastern Europe (Greece, Albania, the Balkan Countries), Russia, the Middle East and in the northeast part of Africa are Orthodox Christians. In many countries, like Greece and Russia, the Orthodox Church is the official state church. In non-Orthodox countries like the United States, the Orthodox Church bears the name of the ethnic group which founded the church. The Orthodox Church is marked by Traditions that are universally practiced, including the way churches are built (architecture), decorated (with icons), the services that are held and the theology that governs the church. We invite you to take a tour of our church and learn a little bit more about its history as well as the symbolism of its beautiful interior appointments.
St. John the Baptist Greek Orthodox Church
St. John the Baptist Greek Orthodox Church is the second oldest Orthodox community in Tampa Bay. It was founded by Greek-Americans in the 1950s. This doesn't mean that the church is for Greeks only—in fact 90% of marriages in our church today are between Greeks and non-Greeks. The church is under the authority of the Greek Orthodox Metropolis of Atlanta and serves more than 350 Tampa families through a vibrant variety of activities and outreach efforts. St. John the Baptist Greek Orthodox Church Office Phone: 813-876-8830 Fax: 813-443-4889 officestjohngoctampa@gmail.com wwww.greekorthodoxchurchtampa.org[/fusion_builder_column][/fusion_builder_row][/fusion_builder_container]